While I am passionate about the training and guidance of young people, and have been so since I first set foot in a teaching laboratory as an instructor 20 years ago, mentoring isn't really something I've done a lot of, and can say I've never actually pursued opportunities to offer such guidance to aspiring food microbiologists.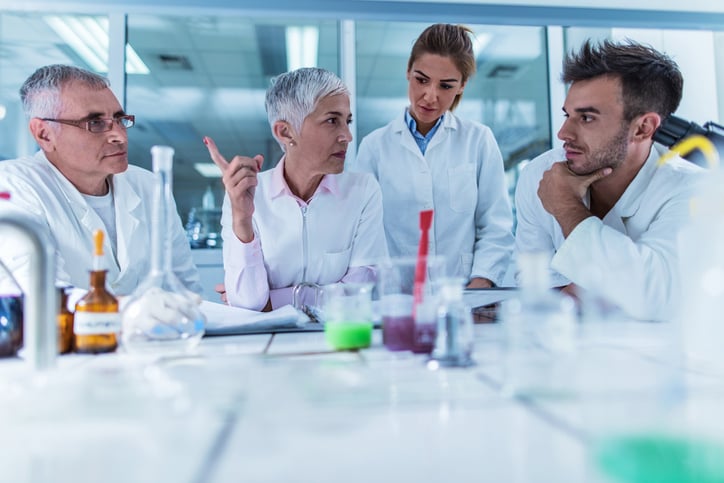 The interesting aspect is of course you never know where and when opportunities will present. A few weeks ago, I started moving our video content to our new Brand YouTube channel, with the first (and so far the only!) video on our channel being on my career in food microbiology. In fact, this video formed the basis of our vlog posted on May 24, which is located here:
https://foodmicrobiology.academy/2020/05/24/my-food-microbiology-career/.
So anyway, a few days ago my video was found by a (very) young aspiring food microbiologist in Mumbai, India. This teenage student made some comments to initiate a conversation with my around career advice and guidance, then we continue our discussions through Facebook Messenger and WhatsApp. Now, we're about to formalise our discussions with a mentoring agreement. This is just great news and of mutual benefit as she can clearly gain from my years on a non-traditional career path and I real feel like I'm 'giving back' and encouraging and 'grooming' the next generation of passionate food microbiologists to come along and really take on the challenges of the world and solve them, which we can all really achieve together. This student is pretty amazing because even at her young age, she has a career vision and a firm goal of wanting to work in the area of food safety and foodborne diseases at the World Health Organization. With such a plan at such an early age, she can so get there as well. What I wanted this blog post to be was to introduce the career mentoring that Food Microbiology Academy now offers by elaborating on some of the examples I provided to this mentee during our early discussions.
Firstly, too many people, myself included years ago in the mid to late 1990s, have a general career idea but no firm goal and vision. Without this, you do almost wander aimlessly to some extent. Thus, I would say – don't worry about or try and identify what you will study as your undergraduate degree and where until you have identified your dream job. Then, you can work backwards. Setting your dream job as your goal will help answer so many questions, such as:
Which is the highest degree I'll need?
Do I need to do a Master degree? if so, should it be a research or coursework Master degree?
Which country should I complete my various degrees in?
What should my undergraduate degree be in?
What sort of opportunities should I seek during holidays or internships to support me reaching my career goal(s)?
For example, if you have come to the conclusion that you need a PhD, does the Australian (three years, one laboratory, research only) or North American (four years, laboratory rotations during the first year, 25% coursework) model work better for you and your career. Then, for training like a PhD, the importance of factors that you should consider can be ranked like this, from most important to least important: Supervisor > Laboratory > Department > University > Country. Some people get to hung up over doing their PhD in a particular country or a particular university. However, it is the supervisor that is most critical and I'm sure you can find exceptional academic supervisors leading world-class research groups engaging in cutting edge discoveries located in what many would consider sub-standard universities or lower ranking countries for research training or higher education in general.
However, you may not even be at the stage where you can identify your ideal or dream job, but you just have a hankering for food microbiology. In such case, perhaps consider the following, as a non-exhaustive list of careers in food microbiology that require high levels of responsibility, so senior positions that typical require a PhD:
I) Teaching food microbiology in a college/university (professor in a community college).
II) Doing food safety research in a university (research-only academic position, like Research Assistant Professor or Senior Research Fellow, in a research-intensive university).
III) Teaching food microbiology and doing food safety research in a university (traditional academic position).
IV) Doing food safety research and development in a food manufacturing company (only food manufacturing companies of substantial size, like Nestlé would engage in such R&D)
V) Consulting and therefore providing advice to small and medium size food companies on keeping their products safe (either as an independent consultant or working for a scientific consulting firm).
VI) Managing food safety at a large food manufacturing company (this may be part of a quality management role of if the food manufacturing operation is large enough, then it would be a seperate position).
VII) Tracking foodborne diseases and identifying sources of outbreaks (such as at a government health organisation, which could be at a national level like the Centers for Disease Control and Prevention in the United States or the Microbiological Diagnostic Unit Public Health Laboratory in the Australian state of Victoria)
VIII) Developing public health strategies and government policy to reduce foodborne disease (an advisory role in government to assemble scientific information and make recommendations for policy and legislative changes to protect the health of the citizens under the jurisdiction of the government you're working for).
So, if you're a budding food microbiologist (no pun intended!) or simply want to find out more about careers and working in our field, do contact myself (Dr Philip Button, @pdbutton, by e-mail to philip.button@foodmicrobiology.academy).